You must allow cookies and JavaScript for a proper shopping experience.
These twenty Bible stories were originally published in serial form in an early twentieth-century children's magazine, "The Messenger of the Sacred Heart." Their author stated, "The tales are extremely simple and unadorned. They are real conversations of a real child and her mother." Due to popular demand, the series was later (1910) published as a book,
Bible Stories Told to "Toddles."
The engaging conversational style of this book lends itself well as a bedtime read-aloud that allows Jesus to come alive in the Gospels. The study aids include discussion questions to help foster spiritual conversation, Bible excerpts relevant to the presented story, "Growing in Holiness" suggestions for living the Gospel message in our daily lives, and short catechism lessons for both children and adults.
Enjoy studying Jesus in Scripture within the context of bedtime conversations between a mother and her young child!
Click here to view sample pages from RACE for Heaven's Bedtime Bible Stories for Catholic Children.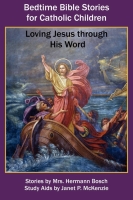 Price: $19.95
Publisher: Biblio Resource Publications, Inc. : 2011
Seller ID: Bedtime Bible Stories
ISBN: 978-1-934185-39-1
Binding: 9" x 6" paperback, 204 pages
---