You must allow cookies and JavaScript for a proper shopping experience.
Use living books to help prepare your children for the Sacrament of Penance and Reconciliation!

A Reconciliation Reader-Retreat: Read-Aloud Lessons, Stories, and Poems for Young Catholics Preparing for Confession
Utilizing chapters from two excellent out-of-print Catholic books for children (
I Belong to God
by Lillian Clark, and
Children's Retreats in Preparation for First Confession, First Holy Communion, and Confirmation
by Rev. P.A. Halpin), this book provides a basic doctrinal explanation and review of the Sacrament of Reconciliation as well as a Gospel examination of conscience—a seven-day read-aloud formation retreat. To help the lessons come alive and to enable young Catholics to more readily apply the catechetical doctrines of this sacrament to their own daily lives, the lessons have been supplemented with pertinent short stories and poems. Each lesson contains reflection questions to promote the important habit of spiritual conversation within your family. Your family will deepen their relationship with our loving and merciful God through the prayer experiences that conclude each lesson and through their daily participation in the "Gospel Examination of Conscience," formulated according to the dictates of the
Catechism of the Catholic Church
.
A Reconciliation Reader-Retreat
is designed for those who are preparing for the initial reception of this sacrament and for those who want to participate more fully. In the relaxed setting of a family read-aloud, this retreat will not only enrich and deepen the sacramental experience for each member of your family but it will also provide several tools to help you recommit to leading a virtuous life and to grow together in holiness.
(Click here to view sample pages from RACE for Heaven's A Reconciliation Reader-Retreat.)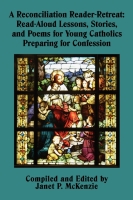 Price: $18.95
Publisher: Biblio Resource Publications, Inc. : 2011
Seller ID: Recon Reader
ISBN: 978-1-934185-38-4
Binding: 9" x 6" paperback, 172 pages
---