You must allow cookies and JavaScript for a proper shopping experience.
Reading the Saints: Lists of Catholic Books for Children plus Book Collecting Tips for the Home and School Library (formerly entitled
Saintly Resources
) is a valuable workbook for Catholic home educators, classroom teachers, and collectors of Catholic juvenile books.
Reading the Saints
will help you discover living books from such popular out-of-print Catholic juvenile series as Catholic Treasury, Vision Books, and American Background Books as well as current series books for young Catholics. Use this book to find:


Over 1,250 Catholic books listed by author, series, reading level, century, and geographical location
Almost 300 different authors of saint biographies, historical fiction, and poetry written for Catholic juvenile readers
Publishers of Catholic children's books, past and present
Helpful advice for collecting and caring for used books
Hundreds of age-appropriate, accessible living books to enrich your study of the Catholic Church's rich heritage of saints and notable Catholic historical figures, as well as inspiring books for your family read-aloud time
Information on how to build and maintain your own library of Catholic juvenile books
Inspiring quotations about book collecting, reading, and the love of books
Lists of the latest Catholic saint biographies as updated in this 2013 Second Edition
To assist in adding Catholic saints to your study of religion, history, or geography—or to find lists of inspiring read-aloud choices for all ages, order your copy today!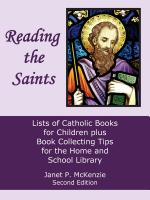 Price: $29.95
Publisher: Bessemer, MI, Biblio Resource Publications, Inc. : 2013
Seller ID: Reading
ISBN: 978-1-934185-45-2
Binding: 8.25" x 11" paperback, 278 pages
---

A "Must" for all Catholic book lovers!