You must allow cookies and JavaScript for a proper shopping experience.
In the 1940's and 1950's, Mary Fabyan Windeatt—"the storyteller of the saints"—wrote a series of twenty saint biographies for Catholic children of various ages. This series illustrates the beauty and depth of the Roman Catholic culture and doctrine as lived by each of these saints in the pre-Vatican II era. Use this dictionary to help you and your family understand more fully the vocabulary and practices of those—and our—times. Containing over 450 entries, this dictionary provides an easy reference to many unfamiliar Catholic words found in Mary Fabyan Windeatt's saint biography series. Many of these terms cannot be found in modern Catholic dictionaries. Use this concise resource to help research those hard-to-find expressions and terms. Test yourself by taking the short dictionary quiz. Expand your level of knowledge about many important Catholic traditions and customs. Begin today to improve your knowledge of Catholic prayers, practices, devotions, and religious orders!
As a bonus, this dictionary also includes a book report resource for Catholic students listing forty-five suggested projects, including fourteen writing projects, ten creative hands-on projects, and twenty-one topics related specifically to saint biographies.
Click
here
to view sample pages from RACE for Heaven's
The Windeatt Dictionary.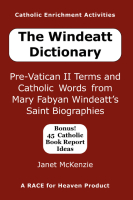 Price: $11.95
Publisher: Bessemer, MI, Biblio Resource Publications, Inc. : 2007
Seller ID: Dictionary
ISBN: 978-1-934185-16-2
Binding: 9" x 6" paperback, 112 pages
---