You must allow cookies and JavaScript for a proper shopping experience.
The forty-five book report ideas included in this RACE for Heaven resource encourage critical thinking for ages seven to fourteen. These ideas are intended to provoke a reflection on those themes and topics that support and encourage Catholic living as well as some that may conflict with our Faith. Many report topics require an examination of our personal faith life and prompt us to take a lesson from the book to strengthen our own faith in God.
The suggested activities vary from written exercises to creative art projects and include twenty-one topics specifically designed for saint biographies. Other activities can be used within a group or family. Many of the report ideas included in this resource require expanded research on one character or event rather than an analysis of the entire book. For this purpose, a Catholic dictionary and a well-indexed book on Church history (such as Fr. John Laux's
Church History
) should be available to assist older students in their research.
Purchase this unique resource to begin a creative flow of ideas for the production of enriching Catholic book reports.
This Catholic book report resource is also included in
The Windeatt Dictionary
.
Click
here
to view sample pages from RACE for Heaven's
Alternative Book Reports for Catholic Students.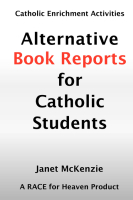 Price: $9.95
Publisher: Bessemer, MI, Biblio Resource Publications, Inc. : 2008
Seller ID: Report
ISBN: 978-1-934185-14-8
Binding: 9 x 6 paperback, 48 pages
---
This resource contains ideas for 45 creative Catholic book reports: 14 writing projects, 10 book report activities, and 21 topics for saint biographies.
View More...